Regular price
€149.00
Sale price
€74.50
Unit price
per
-50%
Sold out
Special edition Hybrid Smart Watch with Leather Nylon Strap for maximum comfort. Reach your fitness goals with style!
Share
View full details
Up to 6 Month Battery

High Quality Materials 

5ATM Waterproof
Stay Discreetly Connected.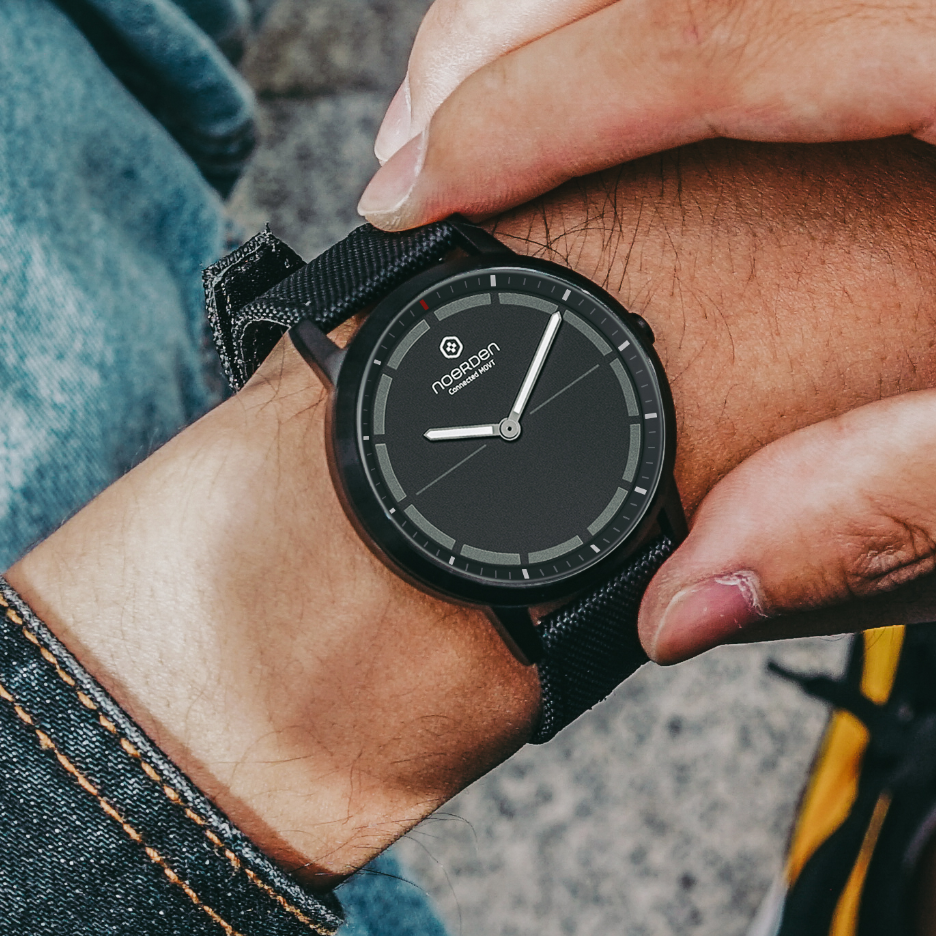 Essential Functions
✓ World Time Synchronization
✓ Control your Music
✓ Camera Remote Control
✓ Set Vibration Notifications
✓ Set Silent Alarms
✓ Find your Phone
Stainless Steel Case 
40mm Stainless Steel Case and anti-scratch Sapphire glass.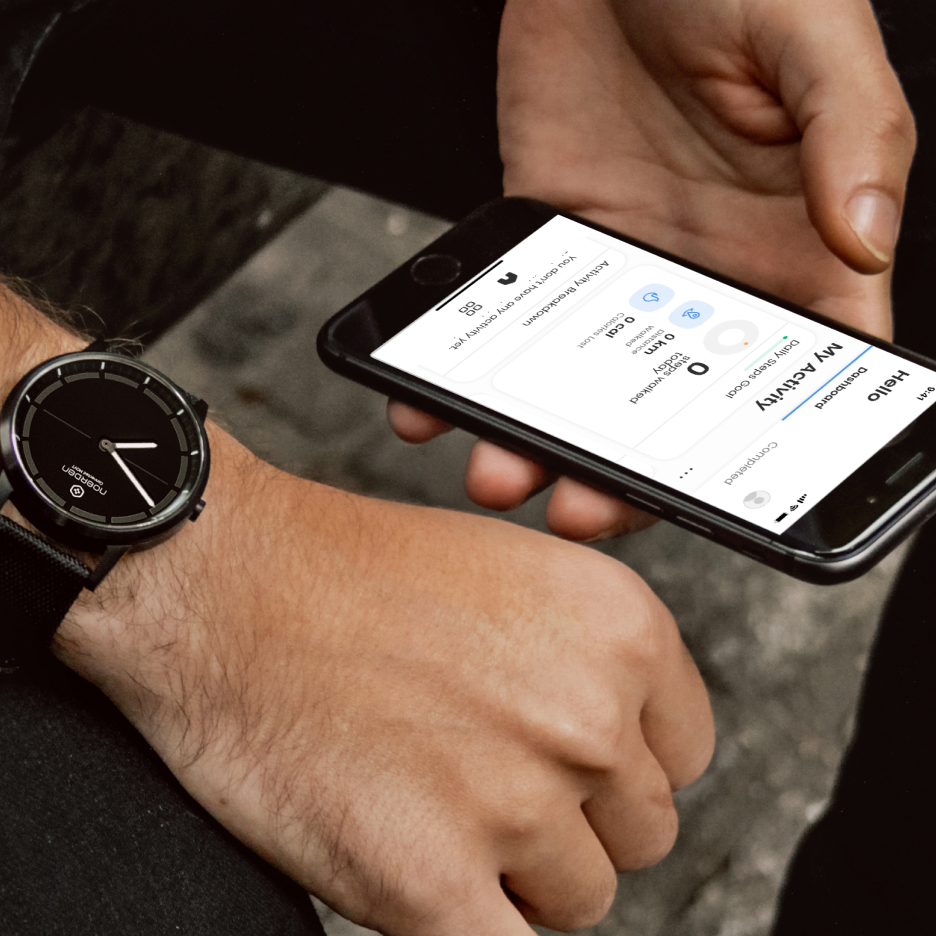 G-Sensor
Measures daily activity and sleep.
New Lite Luminova Hands
Read the time when it's dark.   
Collapsible content
Shipping

We ship to the following countries: Austria, Belgium, Bulgaria, Canada, Czech Republic, Denmark, Estonia, Finland, France, Germany, Greece, Hungary, Ireland, Italy, Latvia, Lithuania, Luxembourg, Netherlands, Poland, Portugal, Romania, Slovakia, Slovenia, Spain, Sweden, Switzerland, United Kingdom and United States. 

Shipping times: France: 1 to 3 working days
UK & European Union: 3 to 5 working days US/Canada: 2 to 12 working days
You will received a tracking link in your confirmation email. 

You have 14 days to change your mind and return your product after reception.
FAQ

Is the watch waterproof?
The MATE2+ is 5ATM water resistant. For example, you can take a shower with your watch, swim on the surface of the water, but it is not recommended that you dive deep.
How long does the battery last?
Up to 6 months on average depending on usage.
What is the box?
MATE2+ smartwatch, CR2032 battery, Watch case opener, Quick start guide & Safety statement
App

Data Tracking
✓ Personal profile with goals completion
✓ Workout tracking: Walking, Running, Cycling
✓ Activity data: steps, distance walked & run, calories
✓ Sleep data: sleeping time & duration, light vs. deep sleep, wake-ups 

Data Sharing & Sync
✓ Sharable data via email, SMS and social media
✓ Syncs with Apple Health & Google Fit  Connectivity
✓ Bluetooth 4.1 connection
✓ Disable Bluetooth mode 

Compatibility 
✓ iOS 12.0 or above - Android 6.0 or above 
Specifications

✓ 40mm stainless steel case
✓ Anti-scratch sapphire glass
✓ Bi-material band in leather & nato
✓ New Lite Luminova mechanical watch hands

✓ 5ATM waterproof
✓ Up to 6-month battery life
✓ Product weight: 56.7gr
✓ Battery: 3V CR2032
Nice watch
Very confortable. Very good quality.
peut mieux faire
Les vibrations pour informer d'un appel ou d'un message sont beaucoup trop faibles quasi imperceptibles et donc la montre perd beaucoup de son intérêt.
Ceci dit le design est tout à fait à mon gout.
Bonjour Claude,
Merci beaucoup pour ce partage tres utile. Nous prenons bonne note de votre feedback et allons le partager en interne avec notre equipe technique.
Belle journee a vous,
L'equipe NOERDEN
Bonne montre connectée esthétique
Superbe ! Très beau design, solide. Bonne application simple et claire.
Belle montre, application en attente d'évolution
C'est une montre. Et elle donne l'heure. Rien n'apparaît sur le cadran, à part les aiguilles. Très belle, sobre et agréable à porter au poignet.
Il faut télécharger l'application. La connexion bluetooth est longue et laborieuse. Les notifications sont a minima: une légère vibration sur le poignet, un petit signal vert. La configuration est différente selon Android (simplifiée) ou IOS, (plus élaborée). Il manque tout de même dans le cas d'Android les notification du calendrier, et pour les deux systèmes, les pulsations cardiaques. Et pour connaitre la météo, la date, les performances physiques, il faut obligatoirement sortir le portable. D'ailleurs, il faut le sortir tout le temps, puisque c'est lui, le cadran de la montre. la pile est censée durer 6 mois. On verra bien. Elle est à l'opposé d'une Apple Watch, véritable arbre de Noël à côté, ou d'une Huawei, très précise. La sobriété a tout de même un coût: le même prix qu'une Huawei, à peu près, qui en donne plus. Mais très belle est la discrétion.
Buen producto, simple y funcional.
PROS:
- Un producto simple, minimalista y funcional.
- Reloj híbrido inteligente Analógico. Me gustan los smartwatches pero no siempre me gusta llevar un reloj digital de plástico.
- Batería. Principal motivo de compra. Te olvidas de cargarlos cada 3-4 días, sin cables ni cargadores.
- Motivación a mantenerte activo y saludable.
- APP. Diseño limpio y claro, buena plataforma móvil.
- Cristal de Zafiro, muy ligero, tamaño contenido y correa de calidad.
- Funcionalidades digitales en "un reloj de agujas".
- Cambio de pila. Personalmente es una ventaja el no tener que cargar el reloj regularmente y saber que siempre cuento con batería.
CONTRAS:
- Cambio de pila: Es necesario reemplazar la pila una vez finalice la batería. Es una pila común y barata que el usuario puede cambiar por él mismo o llevarlo a la relojería.
- Hay opciones en el mercado más específicas para entrenamientos especializados, esto es un reloj para tu uso de día a día.
Puntuación global:
Funcionamiento global - 8.5
Posibilidades de entrenamiento - 6
Plataforma y aplicaciones - 8.5
Autonomía - 9
Acabados y comodidad - 9
Relación precio/prestaciones - 7.5
Hola Celia, gracias por compartir esta amplia feedback, es muy apreciada.